Williams Township Public Works
2540 Morgan Hill Road, Easton, PA 18042
Michael Strawn, Director of Public Works
Phone: 610-258-0172 ext.200
Email: mstrawn@williamstwp.org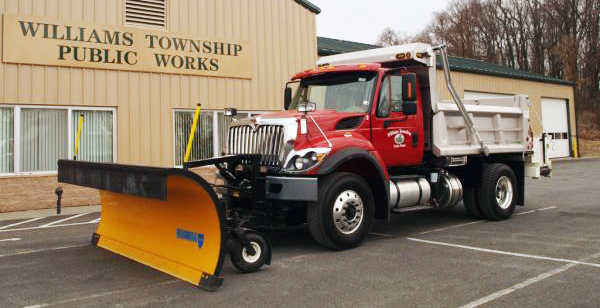 The Public Works department consists of seven (7) full time employees and hires additional seasonal employees as needed. We are responsible for repairing and maintaining all of the township's infrastructure. The township currently owns 122.36 acres of parks and open space, 47.329 miles of roadway, storm sewer systems, sanitary sewer systems, 2 sewage pumping stations, park and recreation equipment, office, recreation and maintenance buildings and has a Winter snow removal contract with PennDot for an additional 19.10 miles of state roads.
---
A LITTLE HISTORY OF HOW WE GOT TO WHERE WE ARE TODAY:
Before moving to our new building, the old public works building (a.k.a. "the sheds") was located at 2300 Morgan Hill Road which was in operation since the late 1950's. At the time, it was also the main office building where meetings were held before moving to its current location. Before that the public works (a.k.a. "road dept.") was located in an old tractor shed where the current elementary school is at 2660 Morgan Hill Road. When the new elementary school was built and the one-room school house was no longer being used, the township took it over and turned it into a meeting room and the garage was built a little time later.
By the early 1990's, after the township started to see a construction boom in the 70's and 80's and more and more roads being built, it became obvious that we needed to expand. They decided to buy a piece of property next to 2300 Morgan Hill Road known as the Heavner property. They gave the owner life rights to it with the intent of eventually demolishing the house and expand our operations there, but then around 2004 the township decided to move the whole operation to a more feasible location at which time they started to acquire through eminent domain a 12-acre piece of property next to the fire company which connects to the main office and municipal park property.
In the Fall of 2006, plans were drawn for the new building and the bids went out. In the Spring of 2007 a bid was accepted and approved at a cost of $3.2 million. Construction started in the Fall of 2007 and continued through the Spring of 2009 after delays in getting the proper environmental permits pushed the construction into the Winter months which lead to a number of weather delays. Construction was eventually completed on the new public works building in the Spring of 2009 at a cost of $3.4 million dollars.
The old public works building at 2300 Morgan Hill Road is now the township's recycling center and material storage site.